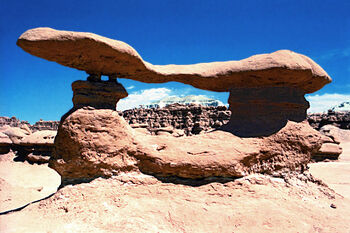 Goblin Valley State Park is located in Emery County, Utah.
Its eminent feature is its thousands of hoodoos and hoodoo rocks, referred to locally as "goblins", which are formations of mushroom-shaped rock pinnacles, some as high as several meters. The distinct shapes of these rocks come from an erosion-resistant layer of rock atop softer sandstone. Along with Bryce Canyon National Park some 190 miles to the southwest, Goblin Valley State Park is one location with some of the highest occurrences of hoodoos in the world.
The park lies within the San Rafael Desert southeast of the east limb of the San Rafael Swell and north of the Henry Mountains. Utah State Route 24 passes about four miles east of the park. Hanksville lies 12 miles to the south.
Overview
Edit

This park is administered by Utah State Parks which is a division of Utah Department of Natural Resources. Discover the beauty and history found in the many State parks of Utah. A wide variety of great activities are available including over 2000 campsites.
See also Scouting in Utah.
Local History
Edit
Wildlife and Nature
Edit
Vegetation is limited to hardy desert species that can endure blowing sand and hot dry surface conditions. Vegetation and wildlife exist on a limited supply of water in the arid desert environment. Plants have adapted by reducing the size of their leaves to reduce evaporation, with some having a waxy coating on their leaves that reduces water loss. Flora occupying Goblin Valley include Mormon tea (joint fir), Russian thistle, Indian ricegrass, and various cacti. Juniper and pinyon pine grow at slightly higher elevations.
Animals often must travel many miles to find water or else wait for thunderstorms to provide moisture. Most animals in the area are nocturnal, venturing out only in the cooler evenings to hunt and forage for food. Some animals get water from the food they eat and go for weeks without a drink of water. Jack rabbits, scorpions, kangaroo rats, pronghorns, kit foxes, midget faded rattlers, lizards, and coyotes are found within and near the park.
Trailheads
Edit
Hiking is permitted in the park, which features three marked trails.
Park Recreation
Edit
Park Headquarters
Edit
External Links
Edit
References
Edit
National Parks of America - an informative and gorgeous tour of all 59 parks with our lavishly finished hardcover gift guide packed with detailed itineraries and practical tips on what to do and see in each park (2016 - Parks 100th Anniversay Edition)
State Parks of Utah - the state parks are so rich in history, varied in beauty, and abundant in recreational opportunity.
Utah's National Parks - 50 popular short hikes where each holds some of the most awe-inspiring geology on the planet. Each park offers visitors the dramatic scenery that invites exploration and discovery.